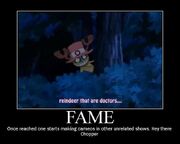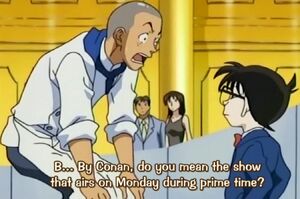 Wiki created June 2012
Do you know a cameo you would like to see featured? Add it to Suggestions!
Cameos, crossovers and parodies, oh my!
Welcome to the Cameos Wiki
[
]
This wiki is designed to document when series and their fictional universes cross over in various ways. This can include characters showing up, or references being made, or things being based upon other things. This can be in a parody form, or through subtle canonicity.
The founder is primarily an anime/cartoon/comics/manga fan and will primarily foster such content (especially through w:c:AniManga and its various projects) but really any series is fine. If you want to talk about how Ray Barone showed up on the Simpsons or King of Queens, go nuts.
The more obscure the better people. Just remember to categorize things.
If you have to ask: be bold and just post it, if it's ever horrible, deleting it is easy. Even the most obscure references, go for it. If it's just text, see if you can find data on the exact location, perhaps a screenshot of a fansub.
Pictures make the world go round and ideally each page can have at least one.
Duplication
[
]
Content duplication is desireable here. Every image uploaded to the wiki, should, for the most part, be featured on 2 articles. One being the series in which the image appears, the other being the series which the image is parodying/referencing.
The exception would be if, perhaps for series, a header image is included in the introduction/description to the series, an overview unrelated to the actual cameo(s). waterfall sequences
Guidelines
[
]
All pages about anime series should be placed in Category:Series regardless of whether they are the subject which features or the object which is featured.
Further categorization:
add Category:Cameos if the series features/references other anime. This is the present tense of the verb 'cameo', not a pluralization of the noun. By their nature, Cameos reference past works
add Category:Cameoed (remember the vowel spelling is E-O-E, I had thought it might be "cameod", it isn't) if an anime series has been featured/referenced in other series. By their nature, cameoed series are cameod by future/later works.
Add both categories if it does both.
Other wikis
[
]